2015 Travel Destinations- Goals and Resolutions
It is that time of the year where most people write New Year's Resolutions in a quest to get healthy, organized, or learn a new skill.  New Year's Resolutions for me is about making travel goals- destinations, planning, and more.  This year I've decided on a few main goals and many destinations for 2015.
Visit at least one more US state. I have been to 43 so far.  I have a feeling that New Mexico, Alabama or Vermont will be checked off the list this year, hopefully all of them!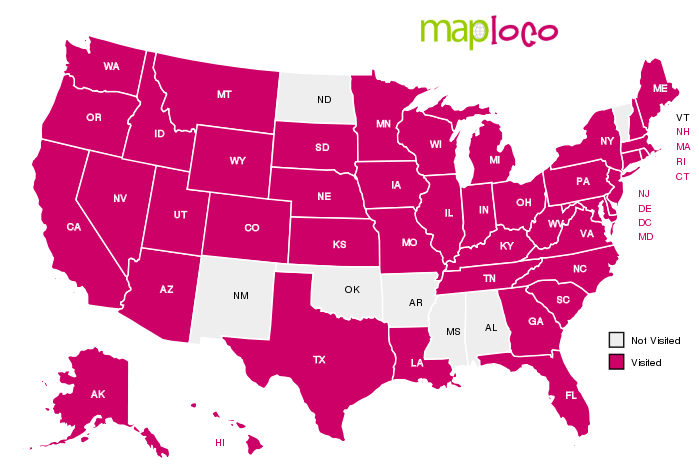 Visit 5 new countries

Fiji will be first, followed by Samoa and New Caledonia. I'm heading to the South Pacific in a few weeks so right there 3 new countries for me!
Japan has been on my travel to-do list for years. I think this may be the year I get it done.
I must figure out what other new country to add to this goal! Botswana, South Africa, New Zealand, Romania, Bulgaria, Montenegro, Jordan, Myanmar, Argentina, Chile and more are all contenders but it will probably come down to getting a good deal at the right time of year. (or if anyone is going anywhere cool and needs a buddy, let me know!)
Easter Island in Chile (photo by Holiday Lettings)
3 Big trips

The South Pacific trip will be my first big trip of the year (and the only one I've actually planned so far)Floating in the turquoise waters of Bora Bora
Japan- fingers crossed
Western Canada- I would really like to take some time and see Banff, Jasper National Park, Vancouver, and Victoria.
image of Banff from National Geographic
3 small trips (within driving distance from Baltimore)

Richmond, VA– I hear a lot of great things about Richmond, VA and plan on making a weekend trip down to Richmond when the weather gets better
Finger Lakes, NY– My friend Rebekah visited the Finger Lakes Region last summer and raved about the trip and the scenery. There is a new contemporary glass wing at The Corning Museum of Glass in Corning, NY that sounds amazing photo by Corning Museum of Glass                                                                                                                                                                                                                                                      and of course there is wine.  And I like wine.
3.  Myrtle Beach- Is it is strange that I've lived on the East Coast for 10 years and have never been to Myrtle Beach? I think this is the year to fix that.
Other travel plans this year include Key West for a friend's wedding, Boston for the Women in Travel Summit, possibly an away Baltimore Ravens game (they play at Arizona, San Diego, Denver, and Miami in 2015!), and back to Arizona to see family.
What are your 2015 Travel Destinations and Goals?