Rabida Island
In the central part of the Galapagos Archipelago is a tiny island called Rabida Island.  It is a volcanic island like all the others but it is older than most we have seen.  The rocks have oxidized and leaves the beach sand red.
Other than the red sand beach there is not much to see here.  Rabida Island has the least amount of wildlife the group has seen on any island. We did see a cactus finch, Galapagos mockingbird, Galapagos dove, and more but I really could care less about birds.  An ornithologist I am not!
Rabida Lava Lizard:
Most of my group was also sick of looking at birds and in the 90+degree heat, high humidity, and the blazing hot sun we sort of ditched our guide and walked in the water to cool down.  Pedro received the message and let us go snorkeling early. Woohoo!
Galapagos Razor Surgeonfish:
Snorkeling here was pretty good. Yes, I realize I am jaded because compared to most vacation snorkeling, this would be considered phenomenal.
Hello sea lion!
The water temperature was wonderful!  It cooled me off without being too cold.  No need for a wetsuit here!
Attempt at a snorkeling selfie:
The day before I left for the Galapagos I had the bright idea to buy an underwater camera.  Too bad that it was Easter and most stores were closed.  I ended up at a shady Walmart that had one camera left.  Luckily, this ended up being a fantastic purchase!!!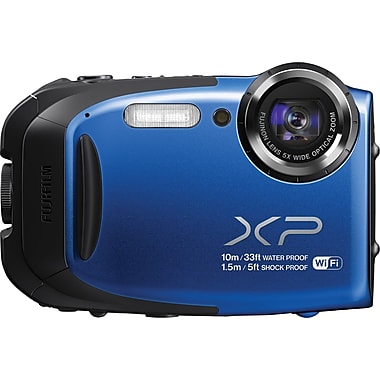 Fujifilm XP70 16 MP Digital Camera with 2.7-Inch LCD (Blue)
We are off to Chinese Hat Island for our afternoon snorkeling. Time to slather on some more sunblock and head back out into the hot sun.